Formify by Nextools wins top prize at Gadget Hackathon 2023 for best use of Shopify checkout UI extensions
🎉 We are thrilled to announce that Formify, developed by Nextools, has emerged as the triumphant winner of the prestigious Gadget Hackathon 2023 for the Best use of Shopify checkout UI extensions category! 🥇🚀
The thrilling news has been featured in an article by Gadget Hackathon, which you can read here.
Formify has proven its mettle by outshining other contenders with its groundbreaking innovation, seamless integration, and unparalleled user experience.
We couldn't be prouder of this remarkable achievement, and it reinforces our commitment to delivering cutting-edge solutions that empower Shopify merchants worldwide.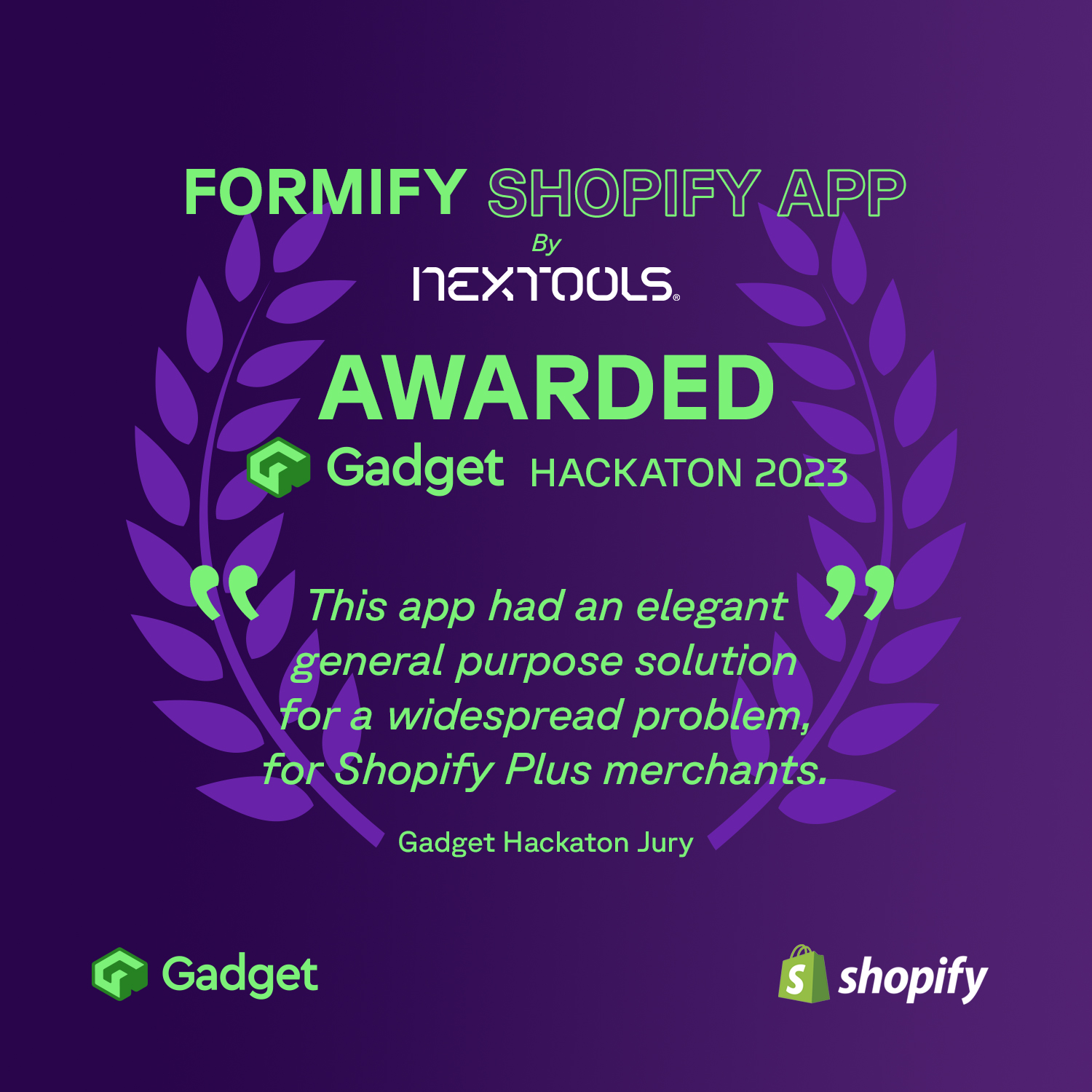 This incredible recognition underscores the dedication and expertise of our team at Nextools. We set out to create an app that revolutionizes the way merchants interact with their customers during the checkout process. With Formify, we aimed to empower businesses to effortlessly create customized forms and capture vital customer information without any hassle.
At the heart of Formify's success is its ability to seamlessly integrate with Shopify's checkout process, elevating the user experience and reducing cart abandonment rates. By leveraging the power of UI extensions, Formify empowers merchants to design captivating forms that align perfectly with their brand aesthetics, resulting in higher engagement and increased conversions.
The Best use of Shopify checkout UI extensions award recognizes the outstanding capabilities of Formify. We would like to extend our gratitude to the esteemed judges at Gadget Hackathon for acknowledging the transformative impact our app has on the Shopify ecosystem. It serves as a testament to our relentless pursuit of excellence and customer-centric approach.
We would also like to express our sincere appreciation to the Shopify community for their continued support and feedback, which has been instrumental in shaping Formify into the remarkable tool it is today. Your trust and partnership have been invaluable on this journey, and we are committed to continuously enhancing Formify to meet your evolving needs.
To all the Shopify merchants out there, we invite you to join the Formify revolution and experience firsthand why it was crowned the Best use of Shopify checkout UI extensions at Gadget Hackathon 2023. Discover the power of seamless integration, captivating form design, and enhanced customer engagement.
Celebrate with us and learn more about Formify's award-winning features by visiting the Gadget Hackathon article. Together, let's unlock new possibilities and elevate your Shopify store to unprecedented heights with Formify!
Stay tuned for more exciting news! Formify will soon be making its grand debut on the Shopify App Store, where it will be available to revolutionize the way you capture customer information and elevate your Shopify store to unprecedented heights.
Embrace the revolution. Unleash the power of Formify!
#Formify #GadgetHackathon2023 #Shopify #EcommerceInnovation #AwardWinningApp